A Sweet DIY Candy Gift Jar (with printable labels)
I was recently challenged by some fellow bloggers to create a budget-friendly Easter craft, and of course I jumped on board – I love challenges like this!
I headed to the dollar store last week to peruse the Easter aisle, hoping to find an item or two that would inspire a project. The instructions were to use items from the dollar store to complete an Easter craft that costs less than $10 to make. After walking up and down the aisle for quite some time, I gravitated toward the Easter candy (darn that sweet tooth!).
I ended up walking out with a couple bags of jelly beans and a vision for a super thrifty candy gift jar. Hey, jelly beans count as dollar store Easter items, right? At $2 a bag for the Starburst brand, I figured they fit within the rules. They were in the Easter section, after all.
Before I dive into a quick rundown of how I whipped up this little gift jar in mere minutes, let me introduce you to the eleven other extremely talented bloggers who are also sharing their budget-friendly Easter crafts today. Links to all of their blogs are underneath this photo, and there is a collection of everyone's craft projects at the end of this post.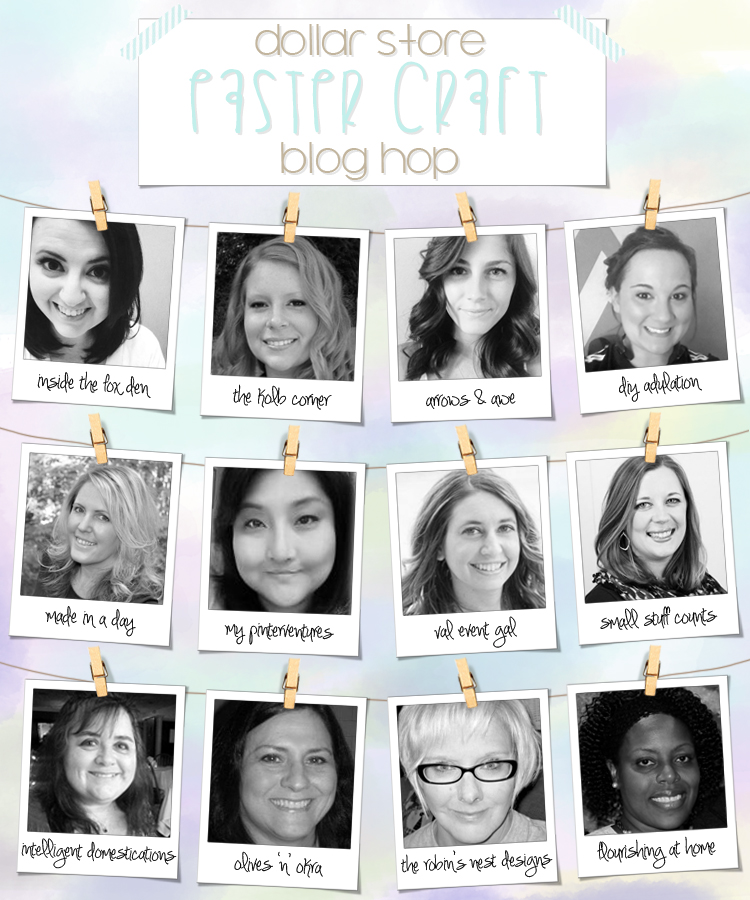 Make This Easy Jelly Bean Candy Gift Jar
My project was super simple and quick to assemble, yet I really think it would be a perfect little candy jar gift to give to a friend or grandma for Easter, don't you think? I also designed some other labels that would make this gift work for other occasions, maybe Mother's Day?
I upcycled a large salsa jar for this project. I may or may not have a jar hoarding problem, so this was a good excuse to use one from my stash (shhhh, don't tell my husband our top cupboards are filled with empty containers I can't bear to get rid of). You can obviously use any kind of jar you have around the house.
My first step was to give the jar lid a quick coat of spray paint. I had a pretty aqua on hand that I've been itching to use on everything lately, so I decided it was a great spring color for my project. I have a big cardboard box in our basement that I use to spray paint small things in.
While the lid was drying, I whipped up a little vinyl label for the lid. I ended up going with the word 'yum' and used my Silhouette (that's an affiliate link) to cut the word out of a circle. If you have an e-cutting tool, cutting out words is easy to do. If not, have no fear! You can easily skip this step or pick up a pack of letter stickers from the store and use them to spell out something fun.
Once the paint on my jar lid was completely dry, I stuck my sticker on top. Isn't it adorable? My paint missed some of the edges of the lid and I was feeling too lazy to do another coat, so I lined the edge with a thin black and white washi tape instead.
This probably goes without saying, but now's a good time to fill your jar with jelly beans (these are my favorite kind). Feel free to taste test them while you wait for the lid's paint to dry 😉
Your final step is to attach a pretty label. I designed this cute Easter label and printed it out on regular printer paper. I stuck it to the jar by using a glue dot in each corner. I also had some cute sparkly string from the dollar aisle, so I used a little of that to embellish things a bit.
Since I was feeling energized from all the sugar I consumed while making this gift jar, I went ahead and designed a few extra labels to share with you. The others are all in Spring colors, but they're not specific to Easter so you can use them for practically any occasion during the year.
– Click here to download all four of the printable gift tags –
That's all there is to this sweet candy gift jar. Make one to give as a little Easter gift or to add some cheer to a friend's day. Sometimes the best gifts are the easiest (and cheapest)!
Get Inspired!
Looking for more budget-friendly Easter crafts? Visit these blogs to see their creative ideas! If you have any $10 or less Easter crafts on your own blogs, you're welcome to add them to our link-up below so they'll be shared on all 12 host blogs. Thanks for stopping by today!
Easter Craft Blog Hop Participants:
Inside the Fox Den || The Kolb Corner || Arrows & Awe || DIY Adulation
Made in a Day || My Pinterventures || Val Event Gal || Small Stuff Counts
Intelligent Domestications || Olives 'n' Okra || The Robin's Nest Designs || Flourishing at Home
This post contains affiliate links for your convenience. Thank you for supporting this blog! For more information, see my disclosures here.
Organize Your Week Course
Take this free five-day course and learn how to streamline your weekly routine. You will be feeling more productive and put together in no time!