This shop has been compensated by Collective Bias, Inc. and its advertiser, Mars Wrigley Confectionery US, LLC. All opinions are mine alone. #SendSweetness #CollectiveBias
Valentine's Day is a time to celebrate with your sweetheart but it's also a fun excuse to gift something sweet to your girlfriends! I have a pretty DIY gift idea for you today that can be handcrafted in a matter of minutes using basic supplies from Walmart. Today's DIY Valentine's Day gift combines yummy chocolates with a girly color palette for a gift your girlfriends will love! I'm even sharing a set of pretty printable gift tags you can download to complete your gifts.
I love coming up with cute gifts for my sisters, something I know they'll appreciate but that won't break the bank. It's fun to give them little gifts that will bring a smile to their face. For Valentine's Day this year, I headed to Walmart to pick up some chocolate candies. You can never go wrong with a gift of chocolate! Check out their supply of Mars Valentine's Day candy at Walmart.com or your local store.
I picked up a few bags of Mars Valentine's Day M&M'S® candies to fill the cute candy boxes for this project. I also thought the Mars Valentine's Day CELEBRATIONS® Bottles would be perfect to tuck into a gift bag with the candy boxes. The pretty packaging of the CELEBRATIONS® Bottles make them instant gifts!
Using just a few supplies and a little bit of DIY time, I was able to create sweet gifts for my sisters and girlfriends! Hover over the photo below for links to the Mars candies I used in this project and then keep reading for the quick tutorial on how I made this sweet gift.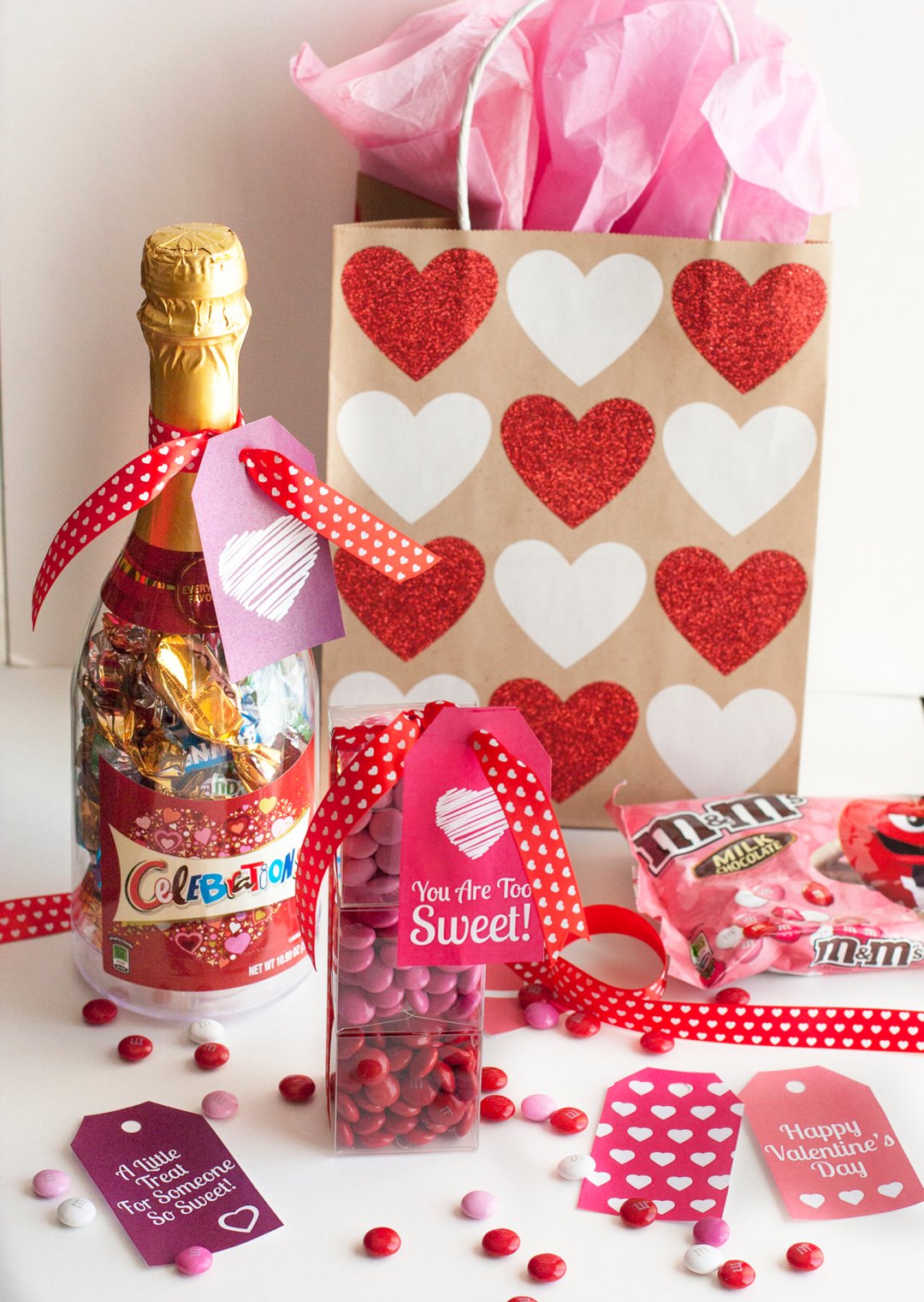 Mars has an awesome coupon available so you can stock up on Valentine's Day candy and show your girlfriends or sweetheart how you Love With Your Whole Heart! Receive $1 off any two lay down bags of Mars candy (7.94oz – 11.5oz) through 2/15/18.
&
DIY Valentine's Day Gift: Mini Candy Boxes
Now, let me show you how I made these sweet candy gifts!
Supplies
Mars Valentine's Day M&M'S® Candies (1 bag was enough to fill three 2-inch plastic boxes)
Mars Valentine's Day CELEBRATIONS® Bottles
Clear Plastic 2 Inch Square Boxes
Festive Ribbon
Gift Tags (download my free printable gift tags here)
Gift Bag & Tissue
Tape
Scissors
Glass Bowl(s) (for sorting)
1 | Gather Your M&M'S® Candies
Pour your M&M'S® candies into a bowl for easy scooping into the little boxes. Don't you just love those pretty reds and pinks? You can leave the colors mixed together or separate the colors so you have a different color in each box. I tried out both ways as you'll see in the photos in this post. It took me about 10 minutes to sort two bags by color in case you're wondering.
2 | Fill Your Plastic Boxes
Assemble your clear plastic boxes and fill with M&M'S® candies. I opted to use three boxes per gift. You can find clear plastic boxes like these in the party section, craft stores or online. I used 2 inch square boxes.
You'll see in the photo below that I played with the color mixtures a bit. The three boxes on the left are completely sorted by color. The middle three boxes are also sorted by color with some of the white M&M'S® candies mixed in. The three boxes on the right are the original mix of colors straight from the bag.
3 | Stack Boxes & Add Ribbon
Use a rolled piece of tape between the boxes to hold them in place as you stack them. Then tie a ribbon around the candy box tower. I found this cute heart ribbon at Walmart – isn't it pretty? I didn't worry about making any kind of fancy bow, instead, I made a simple double knot on top and cut the ribbon ends into an inverted "V" to polish it off.
4 | Top Off With A Gift Tag
Download these free printable Valentine's Day gift tags and print on your home printer or at an office supply store. Cut them out with a scissor, add a hole at the top using a hole punch and slide onto the ribbon to complete your candy box tower.
I cannot get over how adorable this DIY Valentine's Day gift turned out! It's so stinkin' cute!
These are quick and simple so you can put together one for each of your girlfriends!
5 | Embellish Your CELEBRATIONS® Bottle
Tie a piece of the same ribbon around the neck of your CELEBRATIONS® bottle and add a coordinating gift tag. So cute!
6 | Tuck Everything In A Gift Bag
This sweet gift is easy to wrap. Simply set inside a cute gift bag and add a bit of pink or red tissue for a festive DIY Valentine's Day gift your girlfriends will be excited to receive.
I hope you enjoyed this sweet idea for a DIY Valentine's Day gift! It's a lovely way to show your girlfriends how you Love With Your Whole Heart. I love giving DIY gifts but don't always have a ton of time, so simple projects like this are perfect. Don't forget to use the coupon at the beginning of this post to save on Mars Valentine's Day candy!
Happy gifting,