This shop has been compensated by Collective Bias, Inc. and its advertiser. All opinions are mine alone. See my disclosure here. #NothingLikeAHug #CollectiveBias
I was fully aware that newborns need a lot of diapers, but I had no idea just how many our little peanut would use in a single day! I'm honestly impressed with the number of dirty diapers one tiny baby can create.
Now that Chloe is a month old (how is that even possible!?), I'm starting to feel like we have some good organization systems in place when it comes to baby supplies. So today I'm sharing how we're organizing diapers in our house to make the neverending diaper changes as convenient as possible.
Creating A DIY Diaper Caddy
When it comes to household organization, one of my best tips is to create stations or kits for things you regularly use. By strategically organizing all of the supplies you need for a particular task into one area or container, you make it easy to grab everything when you need it.
The types of stations and kits you can set up in your house are endless, but a few examples include a lunch packing station, coffee station, mail/paper station, homework station, cleaning caddy, dishwashing station and car cleaning kit. 
Gather Diapering Supplies
The first step in creating a station or kit is to gather all of your supplies. Think about everything you use for that particular task. Here are the essentials for a well-stocked diaper caddy:
Diapers
Wipes
Changing Pad
Hand Sanitizer
Baby Balm
Baby Lotion
A Small Toy (to keep them occupied during changes)
David and I joined Sam's Club right before having Chloe because we know it's a great place to stock up on baby essentials. As a new parent, buying baby supplies can be expensive and overwhelming! After some research, I've discovered the best value on Huggies® diapers and wipes at Sam's Club. Since we go through so many diapers and wipes, it makes sense to buy in bulk!
Hover over the photo below for links to the Huggies® Little Snugglers that we use. There's a limited time instant savings offer on Huggies products at Sam's Club this holiday season: Buy any 1 Huggies product and get $4 in Instant Savings (valid 12/1 – 12/25). Plus, use Ibotta to get an additional $4 savings.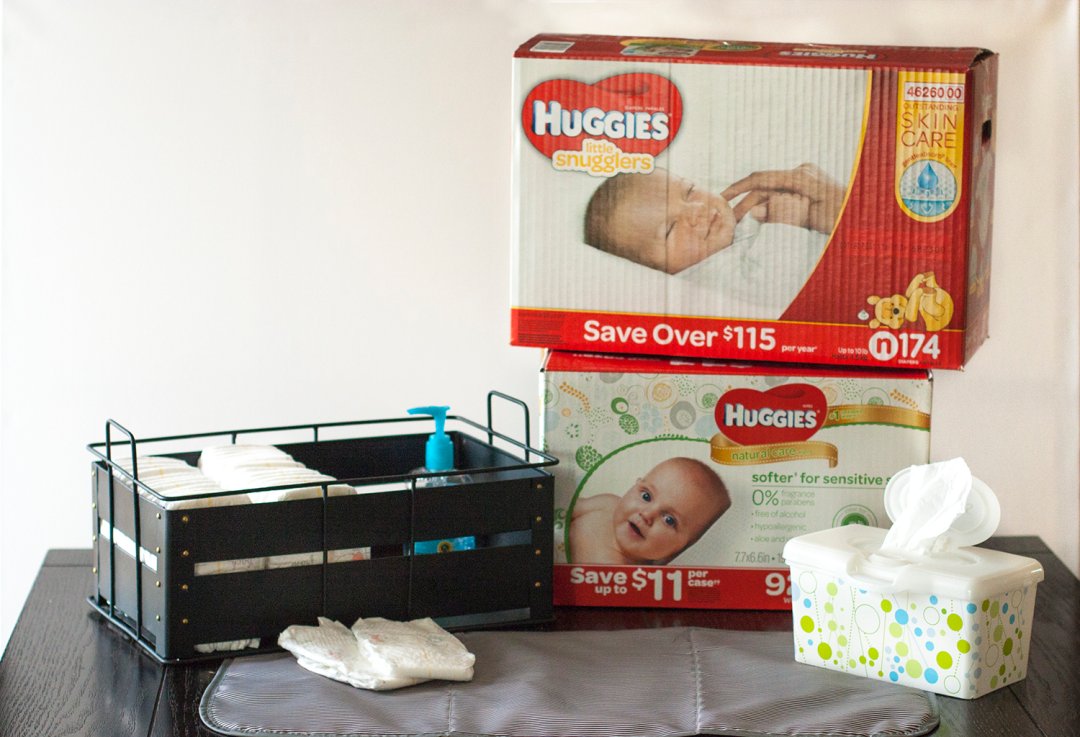 I love being able to stock up on diapers and wipes with one quick trip to Sam's Club. The last thing I want is to run out of diapers in the middle of the night, so it's nice to have a good stockpile at home! If you're stocking up on diapers, this handy chart is super helpful!
Organizing Your Supplies
We have a nice changing table set up in the nursery that we primarily use overnight since it's on the second floor of our house. To avoid climbing up and down the stairs for every diaper change during the day, I wanted to create a diaper changing station on our main floor.
It was also important that our diaper supplies were portable so we can easily move them around the house. That's why I decided to create a diaper caddy! Corralling all of our diaper essentials into one container makes them portable while keeping everything contained.
To create our DIY diaper caddy, I shopped our house for a container that could hold everything. I have a large stash of bins and baskets so it was pretty easy to find one that worked for this project! It's tempting to run to the store and buy new containers for every organizing project, but you can often achieve the same thing using items you already have.
I decided to use this pretty metal crate for our diaper caddy downstairs. It's large enough to hold a big container of wipes and a couple rows of diapers along with a few other diapering items.
We keep hand sanitizer in here and there's room to add balm and lotion once Chloe needs those things. I'll also tuck in a small rattle when she gets a bit bigger and needs something to keep her attention during diaper changes.
Designating A Home For Your DIY Diaper Caddy
This crate can easily be carried around the house and tucked out of the way when not in use. I like the idea of sticking it on a bookshelf or under a table in the living room so it's within easy reach when you need it.
I've actually discovered that our pretty built-ins make a great changing station! There's room for the caddy plus the changing pad on the bottom shelf. She'll eventually outgrow this space, but for now it makes diaper changes super easy to do without having to bend over or sit on the floor. You might have a counter or table in your house that could work as a diaper changing station, too!
I love how the pretty storage container is a diaper caddy in disguise. We've had a lot of visitors these past few weeks and no one can tell that this is our diaper changing station even though the supplies are stored out in the open!
Using a nice container makes our diaper caddy blend in with the rest of our decor. I always love organization projects that are functional and pretty!
Make A DIY Diaper Caddy That Fits Your Needs!
This metal crate is larger than you may want for a diaper caddy, particularly if you'll be moving it around the house frequently. Also, you may want to use a smaller caddy once your baby starts using fewer diapers in a day.
I stocked this small white basket with supplies to demonstrate a smaller alternative for organizing diapers in a caddy. You'll have to restock the diapers more frequently, but it is easy to grab with one hand when you're juggling a baby in the other and it's still large enough to hold all of the essentials. I had room for a few diapers on the side and stashed even more underneath the wipe container.
Organizing diapers in a diaper caddy on our main floor makes frequent diaper changes so much more convenient than running up the stairs to the nursery all the time.
Do you have tips for organizing diaper supplies? Do you use a diaper caddy? I'd love to hear what you do in the comments!
Happy organizing!
This shop has been compensated by Collective Bias, Inc. and its advertiser. All opinions are mine alone. See my disclosure here. #NothingLikeAHug #CollectiveBias